Innovation
The Mister Baby story has been punctuated by research and innovation since its origins, since in 1922 Hatù, strong of a careful selection of raw materials and a deep knowledge of the market and production processes, was the first to launch natural rubber teats in Italy
Since then Mister Baby has always been recognized as a cutting-edge brand with many patented innovation and exclusive design born from the collaborations with research institutes and exclusive partners.

Today Mister Baby experience and know-how become part of Coswell that always carries out research through its own laboratories and in collaboration with the research institutions of many Italian Universities to create breakthrough innovations.

Research and innovation have turned Coswell into a company in which basic research, coupled with free and independent thinking, has produced precisely those insights that have made it so successful in the market.

Coswell Italian Innovators

Coswell represents a group of companies specialized in the production and sale of consumer goods for personal care and well-being, as well as "masstige" and fine fragrances, the latter through the Eurocosmesi division. In addition, the company also operates in the Pharmacy channel through the Euritalia division and its own dedicated sales network. The group strives to provide innovative products, safe and efficient services to better people's lives everywhere in the world, making the satisfaction of customers a rule. All this is made possible by Coswell's people, the big family that through its laboratories, solid collaborations with the best research institutes and Universities has been making its customers' lives easier for more than 50 years.

The great strenght of Coswell resides in modernity and the will to explore new possibilities as well as following its economic and social values in all circumstances. The group believes in respecting the local community to reach sustainable growth while at the same time satisfying its economic, enviromental and social needs, also through social economy.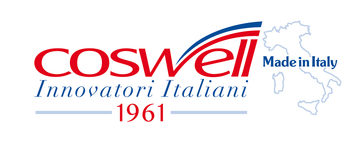 .